Wine tasting
In our wine cellar from the 1600's we frequently arrange wine tastings before dinner. Here you get to taste exciting and renowned wines from the Piemonte area, world-famous for Barolo and Spumante among others. If you wish, we can also arrange tailor made exclusive private tastings.
You can choose between tree different variances of wine tasting, all of them a unique and interesting experience.
An Introduction to Piemontese wine
This is the classic wine tasting we offer at Villa La Madonna. Hosted in our wine cellar from the 1600's and lit only by candlelight our sommeliers will share with you four typical piemontese wines. The focus is as much on history and story telling as it is on tasting. We typically taste one sparkling wine, one white, and two typical local reds including the king of all Italian wines, the Barolo. The experience lasts about one hour.
The Great Red Wines of Piemonte
In this tasting, also hosted in out wine cellar from the 1600's and lit only by candlelight, we focus only on delicious red wines from our region.
Typically, we taste the traditional varietals of Dolcetto and Barbera followed by the even more sought after wines of Barolo and Barbaresco.
The style of the tasting is informal with a focus on storytelling and questions are encouraged.
Barolo Master Class
In this wine tasting we focus exclusively on Barolo wines. The style of the tasting is much more technical and the focus is broken down into three main concepts; a brief history of Barolo wine, the concept of single vineyard wines and why that is so important to Barolo and finally the differences in terroir and production style that make individual Barolo wines so unique. This class has a minimum of 4 people and a maximum of 8.
Grape harvesting
At Villa La Madonna we harvest our grapes in the beginning of October. This is an amazing experience where you can enjoy our vineyards, learn more about how to grow wine and participate in picking the grapes. This is an exclusive package with limited places including, besides the harvesting, a long lunch among the rows of vines, cheese tasting and towards the evening a traditionally cooked dinner.
Private dinner in our wine cellar
Villa La Madonna's wine cellar was built already in the 1600s and is today to be found on UNESCO's world heritage list. Here in this genuine atmosphere we can arrange a memorable private evening with focus on the wonderful Italian flavours. This activity is suitable for a group of up to six persons.
Lunch among the rows of vines
Enjoy a tasteful "slowfood" lunch with some carefully chosen dishes served with our own Villa La Madonna wine. You sit at a beautifully set table among lovely rows of vines while overlooking the stunning Bormida Valley. Much appreciated and a memory for life! (Min. requested 8 pp)
Picnic
Right next to Villa La Madonna you'll find walking and cycling tracks with breathtaking views over the Piemonte landscape. Bring along a picnic with lovely Italian delicacies selected by our chef, and get a nature experience like no other. If you wish, we can arrange a guide for both the trekking and cycling excursions.
Truffle hunting
During October and November we are looking for Piemonte's world famous white truffle – one of the most exclusive delicacies in the world.Come along on an exciting truffle hunt with hunters and dogs in a stunningly autumn-coloured, vine-dotted landscape. During a break we indulge in Piemonte delicacies and wine from Villa La Madonna. You may also buy some truffle to take home – or to enjoy while dining that same evening.
See our exclusive truffle programs.
Acqui Terme
It takes about 15 minutes by car to reach our nearest town Acqui Terme. This ancient Roman town has an exciting history and is known for its curative waters and for its thermal baths. Here you find the famous hot spring where so many people want to enjoy its healing waters. The town's cosy atmosphere is enhanced by its many shops, bars, excellent restaurants and cafés. We recommend a visit to the local wine-bar La Curia, which will be a special experience.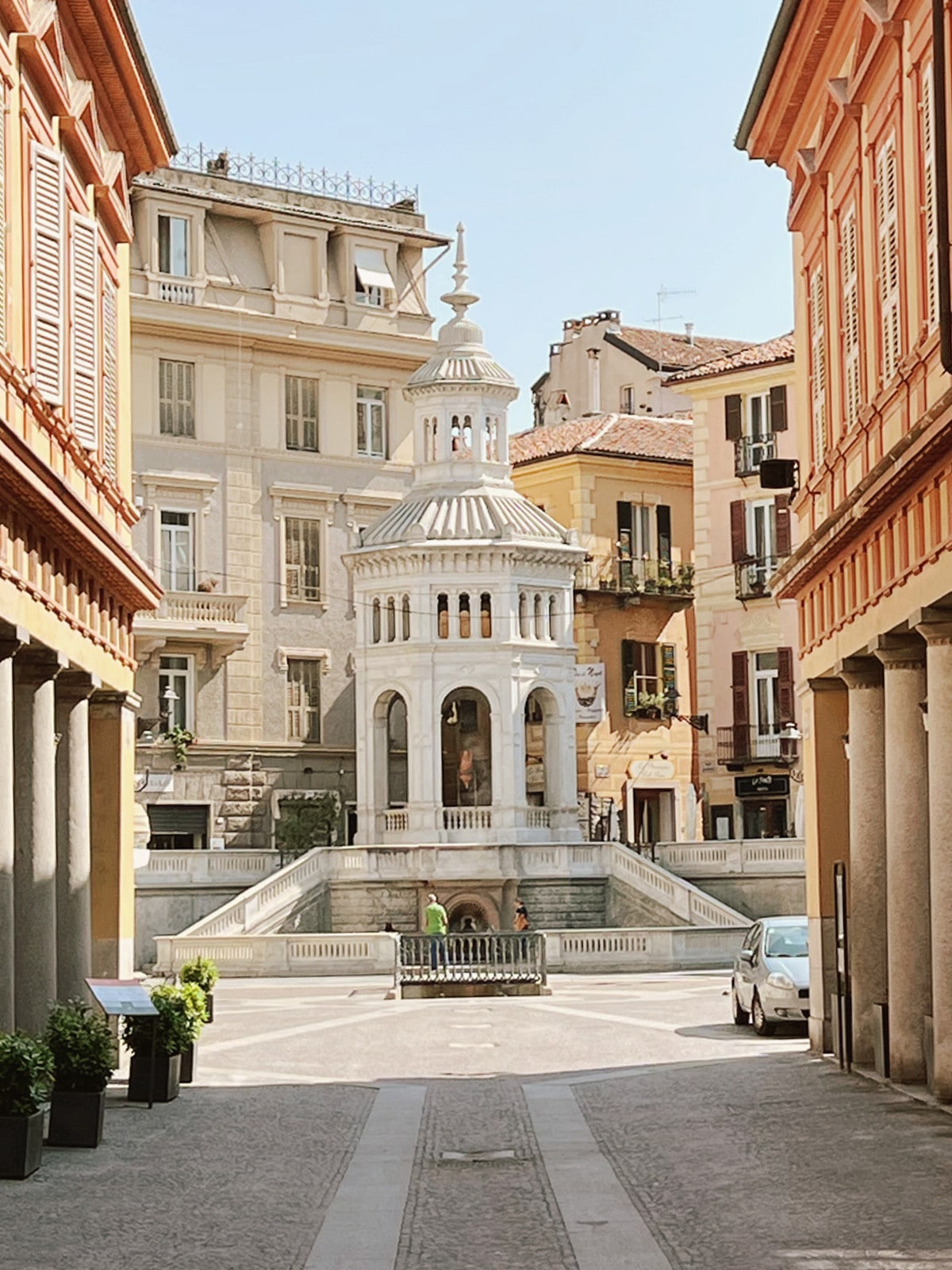 Cheese and wine tasting
The area around Villa La Madonna is known for its tasteful cheeses and there you will find many small cheesemakers living and producing according to traditional methods. At this event you get to taste locally produced cheeses and learn more about their unique history. During the tasting you get to try the world-famous "Robiola cheese" from the little town Roccaverano, just a few kilometres away, and to taste suitable wines from the area.
Visit Barolo
Not far from Villa La Madonna you will find world-famous districts producing wines like Barolo, Barbaresco, Barbera, Gavi and Alta Langa Spumante. Many of the wineries we work with are located in beautiful Langhe Roero, and Monferrato growing regions, which as of 2014 have become protected by UNESCO. According to your wishes, we arrange visits to these wonderful wine landscapes and guide you to well-known vineyards for wine tasting.
Yoga
At Villa La Madonna we have a large and comfortable yoga studio with a gorgeous view over the area. Some mornings we arrange appreciated yoga sessions together with our experienced yoga instructor. You are welcome to participate at your own pace, as a beginner or as a more experienced yoga practitioner.
Massage & body treatments
If you are looking to create a peaceful feeling in both body and mind, Villa La Madonna is the perfect place for you. Here we have our experienced therapist who is an expert on various body treatments. Besides classic massages she offers several kinds of massage like Maori massage and maternity massage. You can also treat yourself to a lovely Kirei and Kobido facial treatment.
Trekking
Villa La Madonna offers fantastic nature experiences while running or walking in the area. The tracks can be everything from 3 to 18 kilometers long. The hotel has its own app with a selection of walking tracks to choose from. For you who want to maximize your experience we can offer private tours with our own guide Giuseppe. We can fix a lovely picnic lunch for you to bring on the guided tour.
Tractor tour to a vineyard
A really fun excursion for family and friends is when our neighbour Vittorio comes to pick you up with his tractor and take you to his rustic vineyard 15 minutes away. There you will take part in the life of a small Italian vineyard and try to bottle your own wine. The tour includes wine and snacks and lasts about 2-3 hours.
Minimum of four participants.
Lunch at our wine farmer's
Same tractor ride as above, but here you take the opportunity to enjoy an authentic lunch at Vittorio's consisting of three courses prepared by our chefs.
Minimum of six participants and a maximum of twelve.
Horseback riding
Piemonte's magical surroundings are made for lovely horseback excursions. We arrange tours located only 10 minutes away from Villa La Madonna where you ride through beautiful nature together with an instructor. For this we recommend long pants and shoes with a low heel. It's not advanced horseback riding but some riding experience is necessary.
Boules and table tennis
If you want to challenge your friends or family, take a walk to our park area 75 meters from the hotel. Here we offer you the possibility to play some boules or table tennis in the welcoming shade from the surrounding trees.
Cycling
To explore the Piemonte landscape on a bike is an amazing experience for all senses. You can borrow one of our four bikes and cycle between the vine fields from Villa La Madonna, and perhaps end your tour in the small neighbouring village Monastero Bormida for a cappuccino at the local bar. Professional mountain bike tours can be arranged with our own guide.
Mountain bike
Villa La Madonna's beautiful surroundings are perfect for riding a mountain bike. We have professional mountain bikes to rent and if you wish to go on a guided tour we can help you with that. We tailor your excursion based on your wishes and needs.
Golf
About an hour away by car from Villa La Madonna you will find several fantastic golf courses, both 18 and 36 hole courses framed by wonderful vines. You are welcome to contact us for more information.
Truffle market in Alba
During the truffle season in October and November a visit to the truffle market in Alba is a must. The white truffle can only be found in a few places in the world and this exclusive delicacy is something we recommend to everyone who is visiting Piemonte.
Truffle served together with a superb Barolo is a taste experience you neither can or want to miss!
The Mediterranean
The Ligurian coast is one of Europe's most beautiful coastal areas. At a comfortable distance by car from Villa La Madonna you will find coastal towns like Alassio, Portofino and Rapallo. There you can enjoy stunning views, taste the local fish and shellfish and find some really exciting shopping.
Torino
Torino is the closest major city to Villa La Madonna. Despite its history as Italy's industrial centre during the 1900s, Torino is both stylish and beautiful. Avenues and squares are framed by historical buildings and the crown jewel is the elegant Piazza San Carlo. This square is surrounded by buildings with classical arcades and one end of the square is dominated by the beautiful churches Santa Cristina and San Carlo. Here you will also find some of Torino's exclusive boutiques and historical cafés side by side.
Private tours
We are also happy to arrange private and personalized excursions to wineries or local points of interest with a private driver and guide. For example, take a guided tour of a Barolo winery or a visit to the medieval tower of Roccaveranno. For more information about options and pricing please ask in the reception.